Our courses, from home
If you prefer to learn French from home, at your own pace, our online courses are made for you. They are very simple to implement : you will just need a computer or tablet, with a webcam and a headset (microphone), and an Internet connection.
Enjoy the expertise of our French teachers, as well as our teaching methods, from home or from work, anytime you wish to.  You can choose between  our online group classes, individual lessons or our web-based easy-to-use learning method :
Our online group classes* are scheduled in advance, according to the teacher's and students availabilities. They take place in a virtual classroom which recreates our learning environment with students and teacher, whiteboard, webcam, instant messaging, live sound… You will feel as if you were taking a course in our centre, in constant interaction with the teacher and other students (e.g. talk, chat, practise your pronunciation, do your exercises…).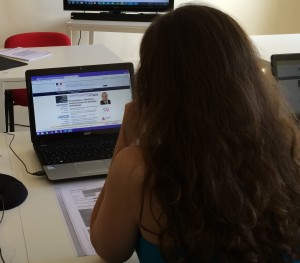 Individual lessons allow flexible scheduling, and are tailored to your needs and goals. Just as for virtual group classes, you will make the most of your lesson thanks to videoconference !
Lastly, our web-based French learning method offers a great range of activities, both linguistic and cultural. One of our teachers will define your programme with you, according to your level and objectives. He will regularly review your progress, and make any necessary adjustments to your programme. Whenever you want, you will be able to contact him, as well as other students, by e-mail or chat.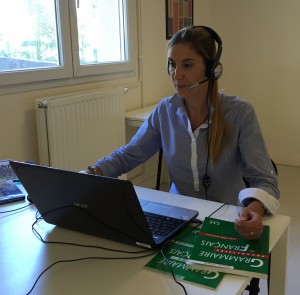 It is possible to combine all 3 types of programmes in order to ensure a personalised learning experience, scheduled at your own pace, which will keep you motivated and won't infringe on your work and daily life.
---
Hesitating ? Your first online lesson is free !
Whenever we meet a new student, wether it is for a residential course or for an online course via videoconference, the first step is to evaluate his level and needs, and discuss his expectations and goals.
Your first online lesson is free and without obligation : it's an opportunity to get to know each other. Moreover, thanks to this first lesson, our future students feel reassured about the « technical » issues, e.g. computer and other equipements, Internet connection…
To book your first online lesson, please click here and complete the form.
---
*Group classes :  3 students minimum
All our online French programs are available on a 3 months basis or a 6 months basis.
Other formulas are possible, for instance a blended program of individual & group lessons + access to the web-based method. Please feel free to contact us if you have any particular request.
Visit our « Prices & Booking » page for more details.