TOURISM AND CULTURE
Evreux is in the county of the Eure in the region of Haute-Normandie. It's a medium sized town at just an hour's distance from Paris and the Normandy coast. There are a large number of tourist attractions, both in Evreux and its surrounding region: sites and monuments, cultural and leisure activities.
The town of Evreux
Enjoy strolling in the streets of the town, or along the River Iton. Visit the cathedral and the Museum of Art, History and Archeology, or check out the shops. Evreux also has many green spaces, parks and gardens.
 ​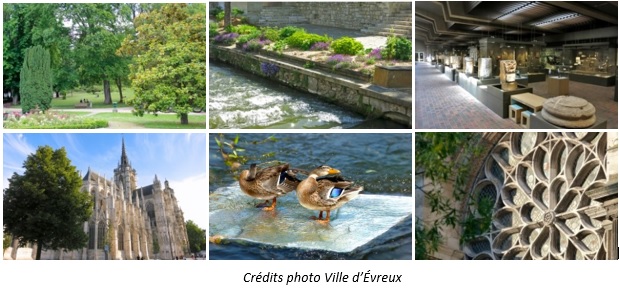 The region around Evreux
The beautiful Normandy countryside, picturesque villages, an archeological site and numerous possibilities for leisure and walking activities can all be found within an area of just a few kilometers around Evreux.

There are also large forests where you can enjoy walking, cycling or horse riding. Go canoing – an ideal way to discover the charming villages of the Eure and Iton valleys.

Rouen, capital of Normandy
At a distance of less than an hour from Evreux (by car or bus), Rouen is a magnificent city with a rich history. Founded by the Romans in the 1st century AD, Rouen, nicknamed « the city of a hundred bells », is made up of several neighbourhoods or areas, each grouped around its own chapel, church or the cathedral.
Each of these neighbourhoods has its own particular charm and history, the details of which you will discover on wandering around the city: old half-timbered houses, gothic sculptures on the facades of churches, Renaissance treasures…… A real journey back in time, both artistically and architecturally!