Learn French in France, in the heart of Normandy
Our teaching methods
Normandie Formation offers an individualised approach to students: everything is done to make sure you enjoy a pleasant and productive stay.  Our classes emphasise communication.  After enrolment, you will benefit from innovative lesson planning, where effective, practical and fun activities ensure you enjoy your studies and more importantly: make great progress!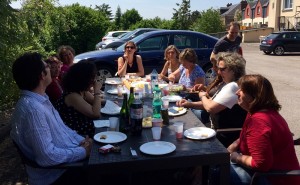 Group courses take place in the morning and/or early in the afternoon (depending on the formula), and are usually split into two parts : the first session concentrates on the study of new syntactic structures, both grammatical and lexical. The second part puts these studies into practise through communicative activities. Students practise speaking through role play activities, putting new vocabulary into real-life situations.
In the afternoon, or during your day-off (according to your program),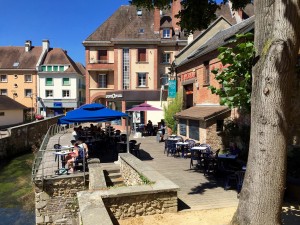 make the most of your spare time : we will be pleased to advise you on the various nearby monuments and sites. We also offer optionnal excursions (Rouen…).
Wishing to work on a particular point ?
We can cater for your specific  demands (grammar, literature, specialised vocabulary, press review, phonetics, colloquial French… ). Our one to one lessons are designed according to individual needs of students.
For instance, you can attend the group class in the morning,
and an individual lesson in the afternoon.
Exam preparation courses
We regularly organise practical courses and workshops focusing on exam preparation :
TCF DAP (Test de Connaissance du Français – Demande d'Admission Préalable)
TCF TP (Test de Connaissance du Français – Tout Public)
TCF ANF (Test de Connaissance du Français – Accès à la Nationalité Française)
TCF Québec (Test de Connaissance du Français – Québec)
DELF (Diplôme Elémentaire de Langue Française)
DALF (Diplôme Approfondi de Langue Française)
L310
This course focuses on strengthening the different skills that will be tested in the exam, such as oral and written comprehension, oral and written production. The students work on the methodology, vocabulary and all the themes specific to the prepared exam, while developing their grammatical and communicative skills.
---
Our formulas :
| | |
| --- | --- |
| Formula | Content |
| Semi-intensive Group lessons | 20 h per week |
| Intensive Group lessons | 25 h per week |
| One to one lessons 10 | 10 h per week individual lessons |
| One to one lessons 15 | 15 h per week individual lessons |
| Blended formula 20/5 | 20 h group lessons + 5 h individual lessons |
| Blended formula 20/10 | 20 h group lessons + 10 h individual lessons |
|  Exam preparation (L310, TCF…) |  25 h per week, group lessons |
The costs of our residential courses are on the « Prices & booking » page.
---

Accomodation

Our students usually stay in a residence close to Normandie Formation, in studio-flats with individual bathroom and kitchen. If you prefer to stay in a hotel or a host family, please contact us for a personalised quote, we will do our best to fulfill your demand.
If you already have your accomodation, no problem :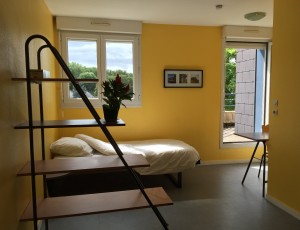 you can choose a program including only French lessons, without any accomodation.
The « Résidence de l'Iton » studio-flats, are just 10-15 minutes walk from Normandie Formation, and 2 minutes from a shopping centre. Bus stop nearby.
Bed with duvet, pillow and linen (pillow case, fitted sheet and duvet cover).
Bathroom with sink and shower, 2 towels and a bath mat.
Kitchen with dishes (plates, glasses, cutlery, cups/bowls, saucepans…). Don't forget your kettle !
Click here to learn more about « Iton Residence ».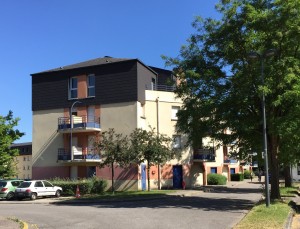 How to get to Normandie Formation
Close to Paris and the Normandy coast, Evreux is conveniently situated and easily accessible :
By car
Paris-Évreux : 1h30 / Le Havre-Evreux : 1h30
By train
Évreux is located on the Cherbourg – Caen – Paris line, with about 20 trains/day during the week and 10 during the week-end. Paris-Evreux : 55 minutes, Caen-Evreux : 1h10
By plane
Close to Paris airports (Roissy, Orly and Beauvais) and Norman airports (Deauville, Caen).
By ferry
Close to cross-Channel ports (Dieppe, Caen, Cherbourg, Le Havre).